Food contact tubing with excellent mechanical characteristics
Independently audited by DEKRA for the application with food, complying with the regulation (EU) Nr.10/2011, FDA conformal, best mechanical properties and a very diverse range of product variations – these are the advantages of our new food contact tubing L:K:S, which is the abbreviation of the German word of the latter LebensmittelKontaktSchlauch.
High-end quality based on decades of experience with polyurethane
Admittedly, PAPUREX is not the first company to develop a food contact tubing made of polyurethane – but the ambition is something different anyway: with the great depth of the product range of the L:K:S, which is available in three different colours, contains several different dimensions from 4mm to 16mm outer diameter and implies custom-made products like spiral and multiple tubes, the family owned company, situated in the Odenwald, is still sure to have set new standards. Besides the great diversity of the food contact tubing, it is the usual PAPUREX-quality, which results from decades of experience with processing polyurethane, what makes the L:K:S to the polyurethane food contact tubing.
With the complex examination by DEKRA, the family company additionally has striked out in a new direction. As already mentioned, not the first polyurethane tubing for the application in the food industry – but the best in return. Nothing less is the ambition of PAPUREX W. Büchner GmbH.
Careful production and supervision for the sensitive area of food processing
The L:K:S gets foiled directly after its production, so that it is totally free of impurities and product contaminations can be excluded. Moreover, the tubing gets manufactured exclusively in an unmarked manner, which ensures that its outside can get into contact with food without any additional risks. As with all other tubes made in the PAPUREX manufacture, the DIN ISO 9001 certified quality management system supervises all critical steps in the emergence of the food contact tubing and thus, secures a constantly high product quality. Obviously, this is especially crucial in the very sensitive environment of the food industry.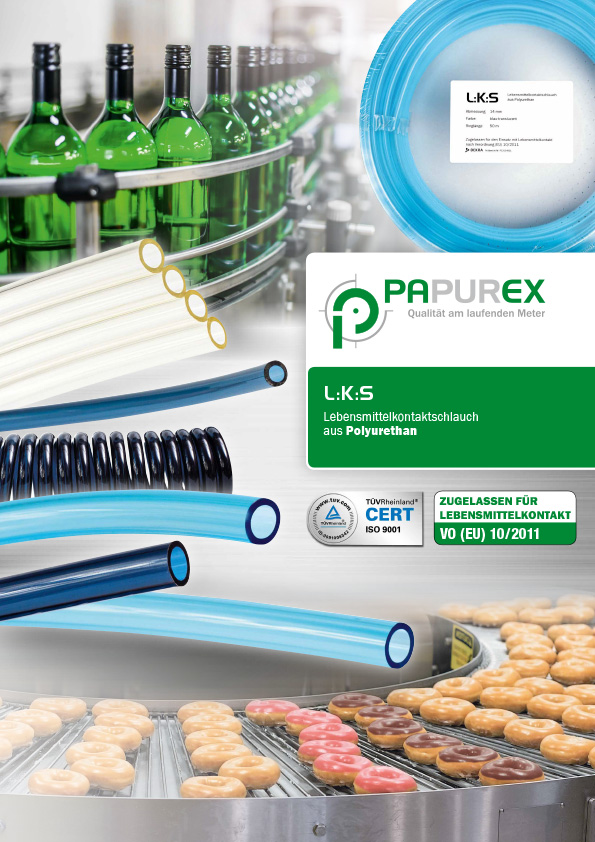 However, the L:K:S does not exclusively excel due to its specific characteristics for the usage with food contact: The mechanical qualities of the tubing are outstanding as well. Besides its resistance against hydrolysis it is resistant against microbes and a variety of chemical contact media too. Furthermore, the L:K:S very resistant to abrasion which makes perfectly suitable for the application with drag chains. Another advantage is the compatibility with plug-in connectors of all leading manufactures due to the very high dimensional accuracy. The tubing receives all these mentioned properties without the use of heavy metals or plasticizers. In short, the L:K:S combines all advantages of polyurethane based on polyether with an unrestricted suitability for the application with food contact.