flamex hybrid® -heavy duty-
Protected from flying sparks
flamex hybrid® -hd-
The extremely durable special tubing made of polyurethane (PUR)
As part of the flamex® series, we offer halogen-free special tubing made of polyurethane that guarantees optimum flammability behavior in case of fire.
Such as the flamex hybrid® -hd-, which thanks to its premium quality withstands extreme strain. Because the »hd« in its name stands for »heavy duty« and this precisely describes the performance of the tubing.
Special tubing with maximum
pressure resistance and extreme durability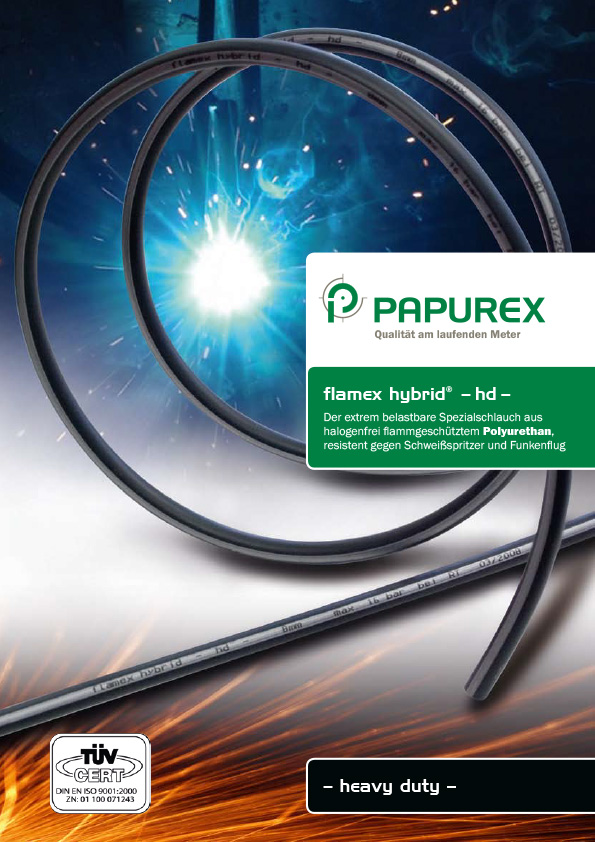 Aus halogenfrei flammengeschützten Polyurethan
Geschützt vor Flammen und Funken
The flamex® flame-retardant pneumatic tubing of the flamex® has been developed to withstand even the roughest operating conditions and has been tried and tested world-wide for years in industry where it was approved for use in German automotive manufacturing. The most important features of this special tubing include its resistance to maximum pressures and suitability for vacuum applications at the same time plus its resistance to weld spatter and flying sparks that is typical of the flamex®.
Reliable quality »Made in Germany«
The flamex hybrid® -hd- special tubing is perfectly suitable for use in difficult environments such as welding plants, spot welding guns or in areas close to grinding machines where it is exposed to an increased amount of flying sparks. In case of fire, the material is self-extinguishing; it has been tested and certified according to the »Underwriters Laboratories« UL 94 standard for classifications V2 to V0. This ensures optimum safety of the tubing and also saves ready cash thanks to its significantly extended maintenance cycles and a particularly long service life.
Note relating to the Papurex sustainability strategy: The flamex hybrid® -hd- is recyclable and is approved for disposal as household-type commercial waste.
flamex hybrid® -hd-
polyurethane tubing
overview
\
Extremely resistant to welding spatter and flying sparks
\
Significantly extended maintenance cycles
\
Halogen-free flame resistance, self-extinguishing in case of fire
\
Tested by »Underwriters Laboratories (UL 94 standard for classifications V2 to V0)
\
Fast, easy and inexpensive assembly
\
Suitable for all commonly used plug-in connections made of metal or suitable screwed connections made of plastic
\
Resistant to hydrolysis (suitable for applications with or in water)
\
Resistant to many chemicals, detergents, solvents and other contact agents
\
Very small bend radii possible
\
Excellent UV-resistance
\
Maximum abrasion and chafing resistance (suitable for drag-chains)
\
LABS-free (free from substances inhibiting paint adhesion)
\
Resistant to maximum pressures
\
Suitable for vacuum applications
\
Approved for use in the international automotive industry
More about
flamex hybrid® -hd-
special tubing?
The flamex hybrid® -hd- special tubing resists to almost anything in its area of application.
Contact us right now for personal advice.