AgrarPur® Special tubing for agriculture
Made of polyurethane
Special tubing for agriculture
Innovative polyurethane (PUR) pneumatic tubing
Stronger machines, higher standards and more efficient and sustainable solutions:
The agricultural industry has developed rapidly in recent years and at PAPUREX we of course keep up with this progress. One result of this is the AgrarPur® special tubing for agriculture, which impresses users with its particular robustness and is already used worldwide in agricultural technology – for good reason.
AgrarPur® special tubing
Special agricultural tubing with sustainable robustness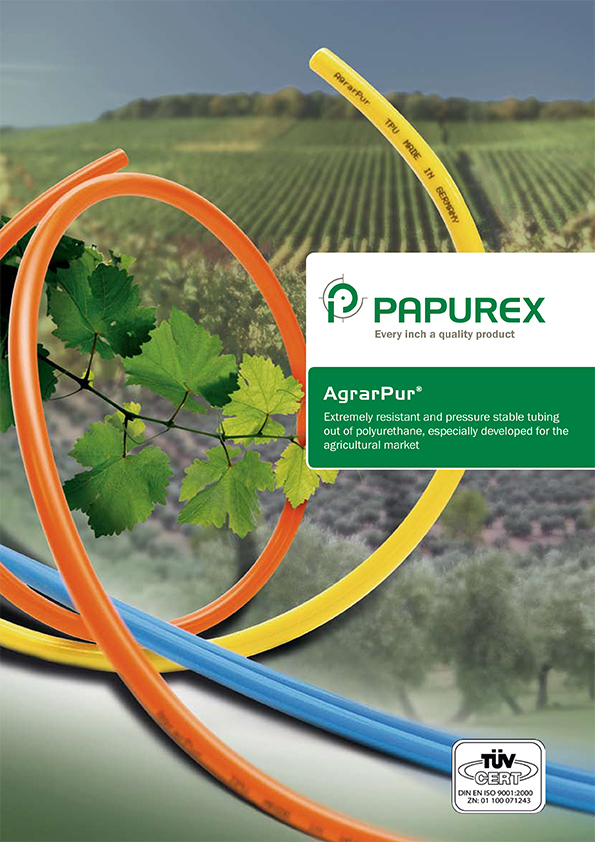 Highest level of flexibility, without plasticizers
Available in blue, yellow, orange, black and red
For years, PAPUREX tubing has proven itself under the toughest conditions in agriculture and agricultural technology. AgrarPur® special tubing is the result of consistent further development that sets new standards for pneumatics in agriculture: With its extreme robustness, tough resistance and enormous pressure stability, the special polyurethane (PUR) tubing is suitable for operating pressures of up to 16 bar and boasts an extremely long service life. This product represents modern, sustainable efficiency that you can rely on in tough everyday working conditions.
AgrarPur® pneumatic tubing for agriculture and agricultural technology is completely developed, manufactured and quality-assured in Germany in accordance with a DIN EN ISO 9001-certified quality management system. In combination with the proven advantages of polyurethane, we provide extremely robust, resistant and pressure-stable tubing – specially optimized for agriculture.
Highest level of flexibility, without plasticizers: AgrarPur® tubing is characterized by the best possible flexibility and allows very tight bending radii with increased pressure resistance. With these excellent characteristics, our pneumatic tubing is ideally suited for agriculture.
Our standard range includes sizes from 6 mm to 12 mm OD.
AgrarPur® special tubing
overview for agriculture
\
Made of proven polyurethane (PUR)
\
High operating pressure up to 16 bar
\
Very good temperature resistance up to 80 °C
\
Highly flexible with best resilience properties
\
High abrasion-resistance
\
High elongation at tear
\
Very good UV-resistance
In addition to our standard range of sizes and colors, you can request your own individual special tubing by arrangement.
Do not hesitate to contact us for personal advice on AgrarPur® special tubing for agriculture.