L:K:S - food-contact tubing
made of polyurethane
Food-contact polyurethane tubing
THE tubing for the food industry
With its L:K:S food-contact polyurethane (PUR) tubing, Papurex delivers quality by the meter.
Our food-grade tubing is suitable for direct food contact, is FDA-compliant and thus, perfect for all food applications – from use in the food-processing industry to food-producing machines.
Highest standards
Food-contact tubing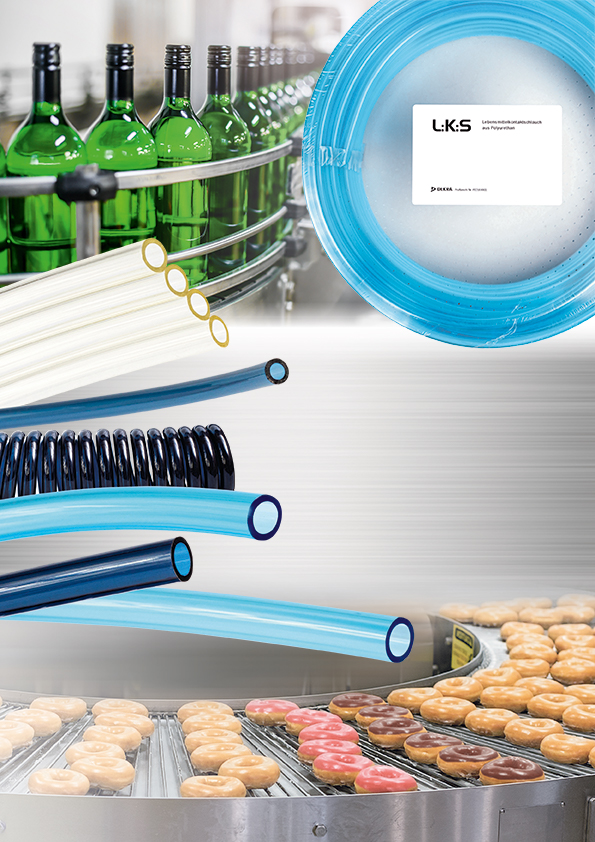 THE tubing for the food industry
contact tubing for the highest standards
Our L:K:S polyurethane tubing is used in so many food technology applications because, in addition to being suitable for food, it also guarantees outstanding properties for long-term operation. The L:K:S offers consistently high pressure resistance and maximum flow rates. The specially developed PAPUREX production process ensures calibrated outer diameters and wall thicknesses in accordance with ISO 9001 quality management, which also allows our tubing to be used for plug-in connections from all leading manufacturers.
Resilient and resistant food-contact tubing
The L:K:S food-contact polyurethane tubing has all the mechanical advantages of the Papurex product portfolio. These include enormous flexibility, the best resilience properties, good elongation at tear, high abrasion resistance and resistance to a wide range of contact substances. We produce our food tubing unprinted, which means that the outside may also come into contact with food. It is supplied in sanitized film-wrapped packaging.
Available in the following sizes 4 mm to 16 mm OD.
Guaranteed free from contaminants:
L:K:S tubing for the food industry is guaranteed free of plasticizers and heavy metals. Our monitored GMP-compliant manufacturing practice ensures that product contamination can be ruled out in L:K:S tubing.
L:K:S Food-contact tubing
overview
\
Approved for food contact in accordance with Regulation (EU) no. 10/2011
\
FDA-compliant for the US market
\
Applications in or with water possible (hydrolysis-resistant)
\
Good resistance to microbes, UV light, many chemical contact agents
\
Ideally suited for use in energy/drag chains
\
Dyes free of heavy metals
\
Suitable for standard pneumatic operating pressures
Do you have further questions about L:K:S food-contact polyurethane (PUR) tubing?
Then do not hesitate to contact us – we are happy to advise you.