KKS-neo - the next generation
Special polyurethane tubing
KKS-neo
Flame-resistant pneumatic tubing
Meets European railway standard EN 45545
As a leading manufacturer of flame-resistant polyurethane tubing, we have succeeded in further improving the KKS line and developing special halogen-free, flame-resistant polyurethane (PUR) tubing that meets the highest fire protection standards. KKS-neo is currently the only special polyurethane tubing that meets the European railway standard 45545.
Suitable for almost all industries
Self-extinguishing polyurethane tubing
Due to its outstanding properties as self-extinguishing special tubing made of flame-resistant polyurethane, KKS-neo is explicitly approved for international use in rail vehicles, but is also ideal wherever a high level of fire protection is required. Accordingly, KKS-neo is ideal for use in almost all industries, such as in sensitive areas of public building technology, rail vehicle construction or aircraft technology.
Hightech »Made in Germany«
The wide range of resistance to liquid media, various chemicals as well as UV radiation and microbes allows KKS-neo to be used in diverse environments. The compatibility with plug-in connections from all leading manufacturers ensures fast and easy installation, which means that our special tubing contributes to process reliability. We ensure consistently high quality through an ISO 9001-certified quality management system and deliver top-quality products "Made in Germany" – from development to the finished tubing.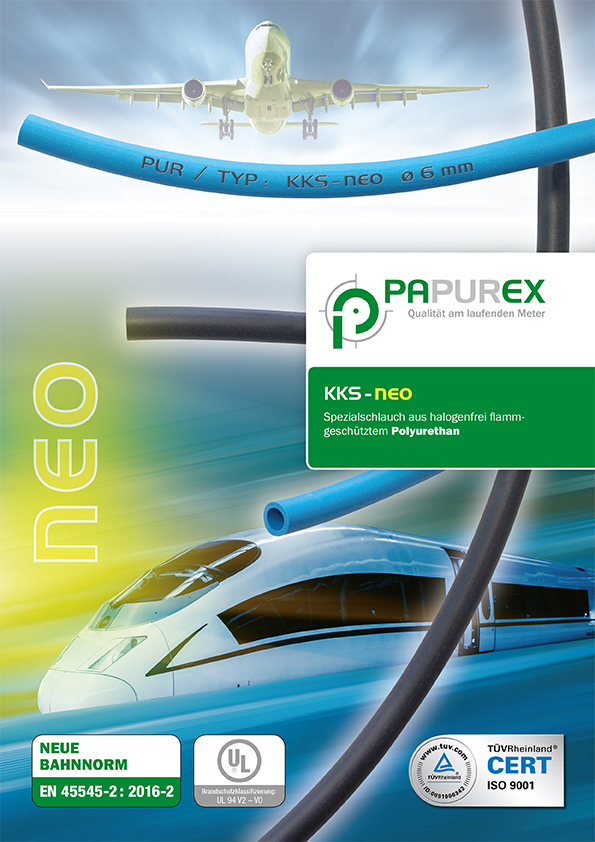 recyclable special tubing
Flame-resistant special polyurethane
Innovative, flame-resistant pneumatic tubing
Up to 100% recyclable special polyurethane tubing
KKS-neo is guaranteed free of heavy metals. Common tubing sizes are available in blue in our standard range, but we are happy to produce other dimensions or colors for you after a personal consultation – just give us a call.
Particularly long service life:
The material balance of the flame-resistant special polyurethane (PUR) tubing ensures high abrasion and chafing resistance for a particularly long service life.
Available in sizes 4 mm to 16 mm OD.
Halogen-free, polyurethane tubing
KKS-neo flame-resistant pneumatic tubing
overview
\
Meets the high demands of the European rail standard EN 45545 and is therefore suitable for use in international rail vehicle construction.
\
Improved fire protection properties due to the optimized material composition
\
Fits all standard plug-in connections made of metal or suitable screwed connections made of plastic
\
Resistant to hydrolysis (suitable for applications with or in water)
\
Resistant to many chemicals, cleaning agents, solvents and other contact agents
\
Very tight bend radii possible
\
Very good UV-resistance
\
High abrasion and chafing resistance (suitable for drag-chains)
\
Suitable for vacuum applications
Do not hesitate to contact us for orders, inquiries or further information about KKS-neo special polyurethane tubing –
we are happy to advise you on a personal basis.