Antistatic tube A:S:S®
if static charge must be prevented
An antistatic tube is crucial when static charging can be dangerous. The best way to prevent this is not to let it arise in the first place. With that exact principle in mind, the antistatic tube A:S:S was created. The special tube is suitable for pneumatic applications (more on pneumatic tubing) as well as usage with many other media than air. Its properties were designed to perform in critical areas where a static charge has to be avoided at any cost, for example, during the production of sensitive electronics or in environments with a high explosion risk.
When is an antistatic tube needed? 
When different media, no matter if they are solid, fluid, or gaseous, flow through a tube, static charging can arise through friction. The friction between the different particles as well as their rubbing against the inner wall of the tube contribute to this. What sounds harmless at first, harbors many risks. Static charging can lead to serious consequences for the application process and the safety of its environment: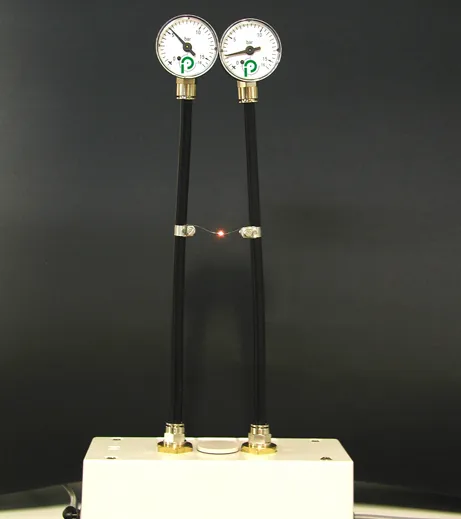 Particles of the medium stick to the walls of the tube. In the worst case, the line can clog, and the system collapses. 

Sensitive electronics can be disturbed or damaged through static charging. 

In some environments, static charging can even lead to explosions.
Antistatic tubes can prevent these risks by not letting static charging arise in the first place. In many cases, this is less work than discharging the static charge in a controlled manner. Hence, an antistatic tube can not only make an application safer, but less expensive as well.
Highly antistatic design and long life cycles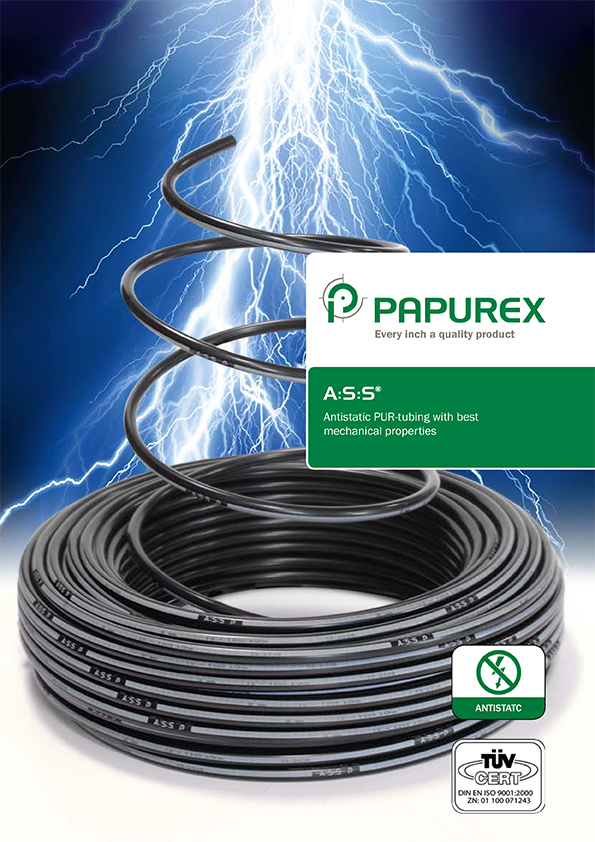 Excellent antistatic properties and a long service life
Highly flexible and multiresistant
pneumatic tubing for use in special environments
For reliable and safe application, A:S:S antistatic tubes have a surface resistance of 10 to 1000 kΩ. With this highly antistatic design, the tube meets the demands of the ATEX 94/9/EG norm that regulates the usage in environments with a high explosion risk. Via the production with the highest production standards, meeting DIN ESN ISO 9001, long life cycles are ensured to keep maintenance costs as low as possible.
Antistatic tube – highly flexible 
A special advantage of the A:S:S series is its flexibility. It enables the application of the antistatic tube made of polyurethane with small bending radii. At the same time, it keeps good mechanical properties and good pressure resistance. Moreover, resistance to microbes, UV-Light, and hydrolysis makes the A:S:S suitable as a universal tube. A:S:S antistatic tubes are externally calibrated and thus, suitable for all common metal or plastic plug-in connectors.
A:S:S® antistatic tube
overview
\
Suitable for air, water and other liquid, solid or gaseous media
\
Operating pressure: -0.95 to 8 bar (depending on the temperature range)
\
Available in black (free of heavy metals)
\
Dimensions (in mm): from 4 mm to 12 mm OD – further sizes on request
\
Excellent antistatic properties with a surface resistance of 10 to 1,000 kΩ
\
Cost-efficient and sustainable owing to its long service life
\
Externally calibrated and therefore suitable for all common plug-in connections made of metal or suitable screwed connections made of plastic
\
Resistant to hydrolysis (suitable for applications with or in water)
\
High pressure resistance
\
Very tight bend radii possible
\
Very good UV-resistance
\
Suitable for vacuum applications
\
Suitable as tubing for conveying and supply (e.g. powder coating in surface finishing)
Download the A:S:S® product flyer as a PDF document, or better yet, give us a call – we are happy to advise you.