Oil scrapers for various purposes
with long life cycles
Oil Scrapers made of polyurethane



Oil scrapers can be used at multiple points in various industries. That is no wonder because oil, in many cases, has a crucial role as a lubricant for many production processes. However,  the oil is often unwanted after the completion of the product and has to be removed from certain parts. To keep the work effort for the removal as low as possible, oil scrapers come into play.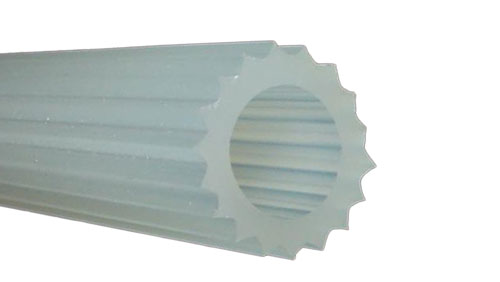 Oil scraper with large slats
The conception of oil scrapers made of polyurethane
To put it in a nutshell: Oil scrapers from PAPUREX are tubes with an outer profile. The profile is responsible for removing excess oil from an application. Due to the round form of the tube, the oil scraper can be rotated as soon as it is worn out. That enables longer operating times without changing the profiles.
The form of the profile can vary. Depending on the purpose of the oil scrapers, larger or smaller slats can be useful. Even the space in between the slats can be adjusted, according to the application.
The length of the oil scrapers can be adjusted individually as well. Due to the extrusion process typical for PAPUREX, lengths from a few centimeters up to multiple meters are possible. The same applies to the outer diameter. At the moment, the oil scrapers are mostly produced with an outer diameter of 18.5 cm. However, other dimensions are possible.
Advantages of the material polyurethane
Polyurethane is a very flexible and, at the same time, robust material. Hence, squeezing the oil scrapers is not a problem. The abrasion resistance of the plastic contributes to the fact that polyurethane oil scrapers have significantly longer life cycles than products made of other materials. That is not only cost-efficient but valuable for the environment as well.
Specific application examples for PAPUREX scraping profiles
PAPUREX oil scrapers are currently mainly used in cold rolling mills. There, the maintenance cycles could get significantly elongated by using oil scrapers made of polyurethane. In this specific use case, the slats are used to scrape the lubrication oil from the metal sheets after the rolling process. However, this is not a limitation for possible use cases.
The advantages of PAPUREX oil scrapers at a glance
Longer maintenance cycles due to the usage of polyurethane
Because of the roundness of the profiles, slats can be changed on the fly
Individual slat profile possible
Individual length of the oil scrapers possible
Individual out diameter possible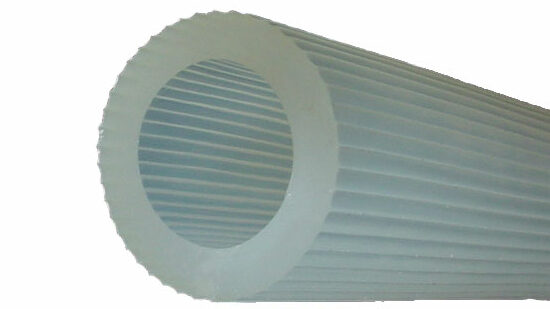 Oil scraper with small slats
Ask our experts about your specific oil scrapers or use our contact form.