Polyurethane tubing - versatile and reliable
Advantages, special forms, quality characteristics
In contrast to its competitors like polyamide or PVC, polyurethane tubing is very flexible. Breaking due to small bending radii and leaking because of brittleness basically do not occur with it. If you want to read more on this topic, here is an article that compares polyamide vs. polyurethane tubing. Besides its flexibility, polyurethane is very versatile. Hence, PAPUREX offers a broad range of standard and special tubing for almost every purpose.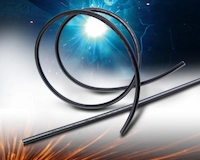 flamex® flame retardant tubing
flamex® has proved in many industries for more than 20 years. The flame retardant polyurethane tubing gets mainly used near welding machines or applications that produce sparks.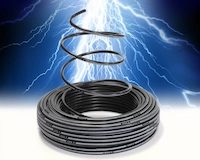 A:S:S® antistatic polyurethane tubing
A:S:S is an antistatic polyurethane tubing with a surface resistance of up to 1000 kΩ. It gets used in areas with risk of explosion or in the production of sensitive electronics.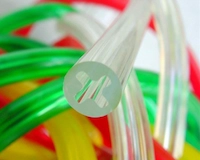 KSS kink-proof polyurethane tubing
KSS is a kink-proof polyurethane tubing. It guarantees flow no matter how small the bending radius is. KSS unfolds its strengths wherever the installation space is scarce.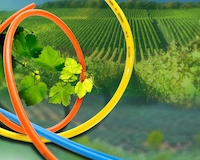 AgrarPur® tubing for agriculture
AgrarPur is designed to withstand environmental influences. The polyurethane tubing, therefore, has its main field of application in the agriculture industry.
The versatility of polyurethane tubing
Color
One of the first things that come into mind when in case of possibilities to differentiate between similar products is color. Polyurethane tubing is available in almost any color you can imagine. And if it is not available yet – a new custom color can get created for you. The advantage of this wide color range is as simple as valuable. It enables the user to make different leads easily distinguishable. For a machine with multiple connectors, using differently colored tubes can make life significantly easier.
Dimensions
Besides color, there are plenty of other options to individualize your polyurethane tubing. Dimensions are probably the most important of them. How big are the connection points? Which flow rate do you want to achieve? These two questions need to get answered before you pick the diameter for your tubing. Fortunately, there are almost no restrictions – any diameters from 3 mm to 28 mm are producible.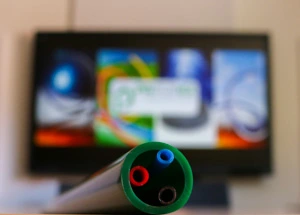 Length
Length is another option for adapting the tubing to your individual purpose. Do you plan to install it in longer lengths? Then, a delivery on wooden reels might be the best option. Lengths of up to 1000 meters are possible with this method. Do you need short pieces of polyurethane tubing for your project? In this case, cut-to-size tubing could save a lot of time for you. It gets delivered precisely in the length you need. Thus, the user can focus on the assembly process without losing additional time for cutting the tubes into the desired length.
Special forms of polyurethane tubing
In some cases, special tasks require special forms of tubing. Spiral tubing for workstations is an example of that. Due to its spiral shape, the tubing can extend and contract by a large margin. Thus, it is not in the way when it is not needed but very flexible when it is. Another example of unusual forms is multiple tubing. Several polyurethane tubes get connected to one. Hence, only one installation process is necessary for several tube lines.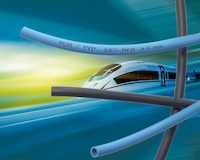 KKS: for railway & aviation industry
KKS tubing is specially designed to comply with the high demands of the railway and the aviation industry in terms of fire protection and safety. It is suitable for various media.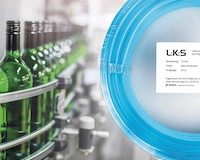 L:K:S - tubing suitable for food contact
L:K:S is a polyurethane food contact tubing. Its entire production process is optimized to keep it clean of any impurities. L:K:S is available in many colors and dimensions.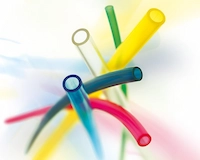 Polyether- based standard PUR tubing
The polyether-based standard tubing is very versatile. It has very good mechanical properties. Moreover, polyether-based tubing is resistant to hydrolysis and microbes.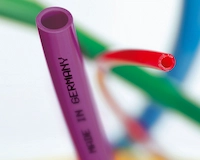 Polyester-based standard PUR tubing
The polyester-based standard tubing is maximally pressure resistant over a wide temperature range. Furthermore, it is very flexible and abrasion resistant.
Polyurethane tubing – a high-quality product
Our extrusion process has been improved over more than 40 years allowing us to produce polyurethane tubing of very high quality (learn more about our quality management). That begins with the tolerances. The entire system's functionality gets threatened whenever a tube does not comply with the set tolerances. How is a pneumatic lead supposed to keep tight if the tubing does not fit into the couplings properly? Hence, before beginning a project, we agree on tolerances with all our customers. Absolute compliance with these tolerances is of priority during the whole production process.
Another characteristic of polyurethane tubing is its pressure resistance. If a tube cannot withstand the bursting pressure it is supposed to, that can have dangerous consequences. Thus, precise testing of the stability characteristics is mandatory to ensure its quality.

Don't hesitate to give us a call – we are happy to advise you.